Voila, a video – Grabby Paws (Lead Everyone Astray)
Development Gallery
Who's mentalpop?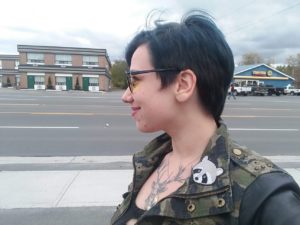 I'm mentalpop or Kaitlyn (she/they). I'm an artist, a writer and a game dev.
At Ryerson University, I received my degree in Radio and TV Broadcasting (Media Production) and minored in English.
I'm your local Celestial Web Goth here to lace your afternoon tea with some storytelling and inclusive design. It's non-toxic, but the State of California's got some warnings, probably.
I'm currently working on a Junk Punk love story about a raccoon thief and their partner in crime (and in life!), where you scope out a detailed city, meet a colourful cast of characters, and evade the raccoon mob. The sugar's been stolen, the permits aren't printing and someone's stolen an ancient book of thicc evils, but it's all about love and fambily in Grabby Paws (Lead Everyone Astray).
Development Gallery